Welcome to Nano Interface Technology, Inc

Nano Interface Technology, Inc. (NITI) was founded in 1997. Our mission is ďInnovation in the Nano-biotechnology and Nanotechnology.Ē We are a pioneering research organization committed to develop novel nanotechnologies in biotechnology, material sciences and the drug delivery areas. One of the major scientific challenges for the material scientists has been the development of processes that can help control the ultra-homogeneity in material properties at a molecular stage. We plan to commercialize our products by licensing technologies and developing products for the private companies. Most of our technologies are proprietary and is protected by the current patent law. We, at NITI, believe that we have hit upon the Holy Grail of material production, where we can synthesize molecules under highly controlled conditions for specific applications. With the right reaction system and specific ambient conditions, we can control the properties and purity levels of our products. All of these processes can be easily scaled up for large-scale production, at commercial levels. Our vision is to significantly alter the processes and purity levels of materials by creating them at the molecular level.

Nano biomaterial-coated
hip implants

Nano biomaterial-coated
dental implants
Nano Interface Technology, Inc.
Nano Interface Technology, Inc. (NITI) has been chosen as one of the 50 National Winners of Fundingpostís 2005 Pitching Across America Competition (www.fundingpost.com/paa-winners.asp?refer=PAA-winner). FundingPost, which has been introducing entrepreneurs to investors for almost 5 years, established the competition in which 100 Venture Capital Funds and Angel Investors participated as judges, voting on 300 business summaries from emerging companies nationwide. The largest Venture Capital competition ever organized, this year's Pitching Across America was sponsored by Wolf Block and PR Newswire.
NITI is ranked 5th among 50 National winners and is the only Nanotech Company in top 5.
NITI presented its innovative products at the Investment in Innovation (In3) - a leading Medical Technology Conference on October 10, 2005 at Boston, MA.
The Company exhibited next generation of coated orthopedic and dental implants at the New York Venture Summit on June 7- 8, 2005 in NY.
The Wall Street Reporter interviewed the founder of NITI on May 23, 2005 about business opportunity utilizing NITI's developed orthopedic and dental implants.
The Company presented its business opportunity in $15B market of orthopedic and dental implants at the 2005 NSIT Nanotech Ventures on May 9, 2005 at Anaheim, CA.
NITI will manufacture and market its implants products (Version 1) in 3 year after completion of in vivo studies.
The NIH Nanotech review panel validates NITIís proprietary technology by stating excellent quality of the product and its enormous clinical benefits.
NITI provides excellent opportunity for capturing 70% of $15B implantsí market by providing superior coatings of biomaterials on the implants, similar to the Boston Scientificís success in $4B stentsí market by providing better coatings of drugs on the stents.
Recently, NanoBiotech News has published founderís interview highlighting the companyís future plan. (pdf)
NITI is among the few Nanotech Companies in the US, which were invited by the NSF to present its innovative research goals at the Nanotechnology Workshop in 2002.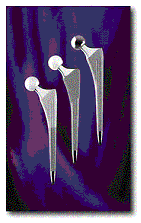 © 2003-2005 Nano Interface Tech Inc, VA, USA. All Rights Reserved.
Last updated Nov 2005.
This site is optimised for Internet Explorer at 800X600 Resolution